In this CNL workshop, attendees will learn how to create, develop, build and manage a social media presence – Get up to speed on the ins and outs of the 4 most influential social media channels.
Learn how to use your existing key messages to create a strong network of followers and to build your overall online presence.
Presenters, Tina Reynolds and Leidhra Johnson of Uptown Studios will help attendees understand the importance of social media and how to better use each channel to build awareness of their organization, campaign or event.
Attendees will learn:
How to use each channel to effectively communicate your message and reach/grow your audience
How to build awareness of your organization, campaign, and/or event using social media
How to find and join pertinent conversations
How to establish yourself/your organization as a leader in your field
In the final hour of the workshop, attendees will put pen to paper and begin to develop objectives and set goals around a new social media strategy.
About Our Presenters: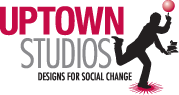 Uptown Studios has been a creative source in Sacramento since 1992 – a Sacramento-based visual communications firm specializing in website design, graphic design, video production and social media management and training.
Tina Reynolds – Owner/Principal, Uptown Studios
Tina has been running her own design firm since 1976. As the community face of Uptown Studios and holder of the "big picture," Tina brings her extensive design career and experience to each and every project. Tina leads by example, bringing her fiery enthusiasm and eagerness to each project. Tina is always here to remind you to make it "Easy, Fun and Popular!" 
Leidhra Johnson, Social Media Director, Uptown Studios
Leidhra is the Director of Social media Uptown Studios. Leidhra manages maintenance, analysis, and training, along with our team of social media account reps, for our clients that need assistance. Leidhra utilizes all of her training to keep our clients in the lead when it comes to influence and engagement on social media channels.
Friday, October 3rd  –  8:30 a.m. – 12:30 p.m.