June 19, 2017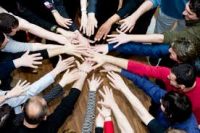 Organizational retreats are useful occasions to get away from day to day operations to focus on building trust, strengthening staff relationships, and educating people on some aspect of the organization's mission, strategic goals and operations.  Where to start? What topics might be addressed? How much will it cost?
The purpose and content of an organizational retreat needs to be discussed with, and agreed upon, by the Board, organizational leadership and staff. Ideally, the board sets direction and the executive director and key staff initially draft the purpose of the retreat, the objectives, activities to occur and potential recreational opportunities to be provided. Participating staff should also have a real, not rubber-stamp – role in defining the retreat objectives and activities. Aim for 100% staff inclusion for best results.  The following outline is a starting point for planning your retreat.
A retreat can have multiple purposes. Those purposes need to be clearly and concisely stated. Clarity of purpose will help organize the retreat and identify the best location. Regardless of whether the retreat is designed primarily for educative or relationship building goals, or BOTH, an ideal retreat does not occur in an office setting and provides recreational opportunities as well as meeting work objectives.
Are you seeking to see your program in action in the community as a way to spark innovation in your service delivery?
Are you visiting other providers of related services in order to build coordinated services?
 Is this the occasion to train everyone in the use of the new hardware/software programs and provide access to specialists who can answer questions as staff practice with the new technologies?
 Is there some organizational issue –  a new Executive Director, the death of a long time staff member, changes in the organization's budget – that needs to be discussed and reflected upon, with a professional facilitator?
 Does your team "just need a break" – an opportunity to socialize and celebrate a recently completed project, event or milestone? Will the recreational opportunity be inclusive of all staff?
Whatever the agreed upon purpose, it's important to have board approval and staff " buy-in" on retreat purpose and location. The answers to your questions about "What is the purpose of our retreat?" and "Where should we host it?" will help you decide on the following:
When should we host a retreat and how long should it last?

Retreats can be as short as a few hours or over most of a weekend, but need to be planned well in advance and budgeted to meet everyone's needs.

Who will facilitate and who should be involved in the retreat?

Good facilitation is key. A good facilitator won't participate in the retreat as a working member, or have a stake in the outcome, so think about an "organizational friend", who understands your mission and goals AND has the expertise to listen, remain neutral, understand how participants think, synthesize ideas, make decisions and handle disagreements that may arise.
Staff retreats should have 100% participation for maximum usefulness in building staff trust and common understandings. Depending on the organization, the executive director may or may not wish to invite board members, volunteers or community members.
Staff input on facilitation and inclusion is essential.

How should topics be addressed?

It depends on the subject matter. Technical experts for technical topics. Program specialists for education on timely subjects. Organizational leaders for assessing organizational challenges and long range strategic planning.
Relationship building requires a skilled facilitator to lead team-building activities. As outlined in Board's Source's RETREAT: HOW TO, key objectives for a relationship building retreat may include:

Identifying barriers to collaboration
Building bridges to improve communication, trust and cohesiveness
Strengthening staff relationships
Improving relationships among staff and organizational leaders, board members and the community.

How should we get ready?

Avoid lengthy presentations at the retreat and reports that can be read in advance of your retreat. If needed, data should be provided in easy to read formats in advance.
Provide all participants a package of information with the meeting agenda, logistics and perhaps a thought-provoking article, well in advance of the agreed upon time for the retreat.
Make sure that recreational activities are varied, inclusive and of interest to staff.
Budget and ensure that resources are realistically allocated for your retreat. Useful activities can occur in a meeting of a couple of hours, although an overnight always provides opportunity for people to get to know one another outside of the work environment.
Material for this article was drawn from Blue Avocado and Reframing Organizations by Bolman & Deal. The full text of "The Board Retreat: How To" is available at Board Source.org.