December 12, 2017
Evaluations can help organizations assess their overall organizational health and how well the Board of Directors, Executive Director, and staff are contributing to an organization's health and impact.  One way to look at organizational health is to look at the extent that Strategic Leadership is being utilized.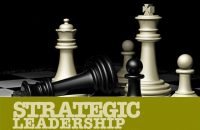 The following is based on these tools: Diagnostic Tool for Strategic Leadership: Filling Essential Gaps in Nonprofit Leadership by William F. Meehan III & Kim Starkey Jonker, Nov. 8, 2017 and Engine of Impact: Essentials of Strategic Leadership in the Nonprofit Sector, Nov. 14, 2017 by William F. Meehan III & Kim Starkey Jonker.
In these resources, William Meehan and Kim Starkey Jonker identify seven essential components of strategic leadership that set high-achieving organizations apart from the rest of the nonprofit sector. Together, these components form an "engine of impact"―a system that organizations must build, tune, and fuel if they hope to make a real difference in the world.
Drawing on decades of teaching, advising, grantmaking, and research, Meehan and Jonker provide an actionable guide that executives, staff, board members, and donors can use to jumpstart their own performance and to achieve extraordinary results for their organizations. Along with setting forth best practices using real-world examples, the authors outline common management challenges faced by nonprofits, showing how these challenges differ from those faced by for-profit businesses in important and often-overlooked ways.
A recent study conducted by the Stanford Center on Philanthropy and Civil Society that drew responses from more than 3,000 stakeholders in the sector, including executives, staff members, and board members at nonprofits and foundations found that:
"The best nonprofits are able to master seven elements that constitute what we call "strategic leadership". These include; mission, strategy, impact evaluation, insight and courage, organization and talent, funding, and board governance. These elements work together as a system. An organization that exhibits strong performance in all seven areas becomes an "engine of impact" and is capable of achieving real impact on a scale that is adequate to current needs."
The study also found that a large majority of organizations fail to thrive in all seven areas of strategic leadership and that in three of these areas—board governance, funding, and impact evaluation—at least half of all nonprofit respondents indicated that their organization struggles to perform effectively (for more details on this study, read the report in the Stanford Social Innovation Review).  Regular and consistent assessment can help organizations determine their specific areas of struggle and the factors that contribute to those struggles—all necessary for implementing actions to improve their performance and overall impact.
For those of you curious about how your own organization fares in its practice of strategic leadership, use their Engine of Impact Diagnostic tool. It's based on the same analytical framework used to develop the survey and takes just 10 to 15 minutes.  You will find additional resources to help you evaluate your staff and leadership in the Tool Box portion of the newsletter.