(More information and registration for trainings available when title is hyperlinked.  Check back often as updates are regular)
"Ideas are the currency of the 21st Century," say Carmine Gallo in his bestselling book Talk Like TED.
For nonprofit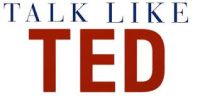 organizations and small businesses to reach their maximum potential, they must be able to communicate their ideas and tell their stories in ways that capture the attention of partners, donors, volunteers, and the public.
Do you ever wonder what "IT" is that makes a presentation stand out and resonate within you?
On Friday, October, 13, join CNL and presenter, Janice Dunn, to find out what a TED talk is and how you can create and deliver one of your own!
Register TODAY or click for more details