CNL Member since 2003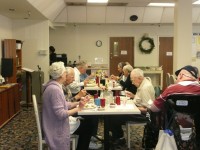 Visit Website:  goldcountryservices.org
Contact Email: director@goldcountrycenter.org
 Founded: 1976
 Purpose: Provide the community with programs and services to keep them well.
Funding: Grants, Foundations, United Way Partnership, Program Fees, membership Fees, Private and Corporate Donations
How we have benefited from being a member of CNL: Mostly through networking at the ED Socials and CNL Workshops.
How our organization has benefited the community: We feed people, we keep them warm and help provide for their social, emotional and physical activity needs. Specifically, GCCS programs can be attributed to delaying and eliminating the need for assisted living. We provide care and compassion to those who don't have nearby friends or relatives. We reduce social isolation. Mostly, we do whatever we can to ensure a high quality of living for residents in Western Nevada County.