CNL Member since 2016
Visit Website: interfaithfoodministry.org
Email: info@interfaithfoodministry.org
Founded: 1987
Purpose:
IFM believes in a community where no one should feel the hurt of hunger.
IFM works to feed the hungry and reduce food insecurity in Nevada County.
Funding:
IFM is supported through grants, food drives, fundraising events, individual donations and daily food donations from community grocery stores and local farms. Financial donations increase IFM's buying power and quantity discounts greatly increase the volume of food purchases.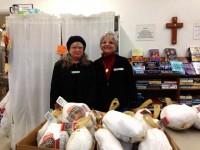 How we have benefited from being a member of CNL:
CNL has provided training, networking and support to enhance IFM's vision of  "Feeding Families, Fueling Hope." CNL has kept IFM well informed on current laws and trends regarding non-profits.
How your organization has benefited the community:
Recently one of our 450 volunteers mentioned how Interfaith Food Ministry "feeds his soul." What an eye-opener! IFM not only feeds the hungry, but also feeds our volunteers' and community's souls. IFM's primary mission is to feed the hungry; one in six people in the county (more than 13,000) feel the hurt of hunger. The IFM attempts to feed as many of them as we can. In 2015, IFM provided more than 90,000 bags of groceries. This can only be done with support of local businesses, community partners, individuals and volunteers. IFM models collaboration in serving the needs of those in need.