CNL Member since 2005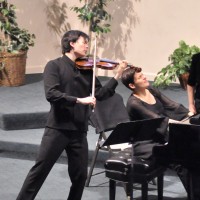 Visit Website:  inconcertsierra.org
Email: info@inconcertsierra.org
Facebook: https://www.facebook.com/InConcertSierra
Twitter: https://twitter.com/inconcertsierra
Mission:
InConcert Sierra presents exceptional classical and choral performances that inspire and enhance our cultural life. We offer a warm, inclusive community for enjoying music and we provide educational opportunities for youth and adults.  
Founded: 1946
Purpose: 
To bring outstanding chamber and choral music to Nevada County
Funding: 
Ticket sales and contributions
Clients Served: The communities of Nevada County and bordering cities.  InConcert emphasizes outreach to youth and the education of audiences.
Success Story:
1) We bring the best in classical music to the forefront and give our audience an opportunity to experience live music that will make their hearts pound, emotions soar, and find their own inspiration through the music we present. We also do this in a friendly and inviting atmosphere, while giving our audience every opportunity to get to know the artist and the music through a pre-concert forum, the concert itself, and a meet-and-greet following the concert.
Robert Grace is a young gentleman who came from England to see Nikolai Lugansky perform in SF and then here with InConcert Sierra in March 2011. Mr. Grace has followed Lugansky all over the globe, knows his bio, reads and memorizes all the interviews and reviews that come though…a true fan.  However, he is incredibly reserved as he mentions in his email below.  We got to know him prior to his visit while helping him set up his itinerary and accommodations, and helped him realize his dream:  –
Dear Julie and Ken,
I would like to thank you both for a wonderful night last night, you are amazing hosts and wonderful people. Thank you also for sending people my way for a chat, I'm too reserved most of the time to start a conversation with people I don't really know, so it was alot of fun to meet like-minded people!!  Meeting Nikolai and having him sign my program meant the world to me.
 Once again, thank you for your warmth and professionalism.  Kindest Regards, Robert
2) From the chorus perspective – following our May 2012 performance of The Armed Man: A Mass for Peace by Karl Jenkins.

The Armed Man was one of the most amazing experiences I've ever had. I am so very grateful to Ken for giving us this opportunity & to the orchestra & chorus for their outstanding performances. Last, but definitely not least -­‐ I'm very grateful to the audiences for taking this wonderful journey with all of us. Thursday night was especially magical.  I don't think in my wildest dreams I ever thought I'd be part of something like that.  I can't even begin to describe what a wonderful experience it was.  However, I think I now understand what some of the super stars experience on stage.   I'm still smiling & thinking about it still brings tears to my eyes & joy to my heart.   – Vicki Cambron, soprano
And from the audience:
Words are inadequate when trying to describe Thursday evening's performance of "The One Armed Man.  "It is such a complex work but exquisitely directed! The entire score was perfection and each nuance enchanting. The chorale is an entity that can stand among the best -­‐ completely disciplined with voices that do justice to anything that they sing.
We, as a community, are blessed you are among us and willing to share your gifts/talent so generously. Thank you, Ken!
Bringing great classical and choral music experiences to our community and making it affordable for families with young children.  Supporting the art of live music performance.
We can also say this through our own community members:
InConcert is an awesome and uncommon organization. (Richard Altenbach)
It must have been an exhausting day for you and all the InConcert gang, and I imagine many of the patrons will have expressed their thanks and will go on doing so.  I just wanted to add my own two penn'orth of gratitude.  On the way home Donna said she had never felt more strongly that moving up here from Sacramento was the right thing to do.  (Bill Simmons)
You have to be so very proud of what you brought to us this afternoon, and what you have brought to our Nevada County.  I looked at Bob towards the end of the concert and said, "would you have believed we had something like this up here?" (When we were deciding to move here).  Incredible, and our community are incredibly lucky. (Janet Rossman)
It is just astonishing that we can hear performances like this in NC. There are pianists, and then there are PIANISTS. This concert was nothing short of astonishing. Lugansky played pieces that are a challenge to any world-class pianist, yet the technical part was the least of his accomplishments. It was the musicality, the tenderness, and the sensitivity of his playing that amazed me. My heart was pounding during the very first piece–I've never heard anyone sing like that on the piano before. Thanks to InConcert Sierra for bringing this artist (I would argue, one of the best pianists in the world) to our local community.  (Ken Getz)
How our has organization has benefited the community:
Through music, our organization transports our audience. Here are two comments we received showing that we are making a difference: "The quality of the musicians who perform for InConcert is beyond all expectation for our small community. We attend even when we think the program is not something we will like because we trust the excellence of InConcert's programing and appreciate the experience and education we receive by just showing up."
 "I especially value InConcert Sierra's dedication to excellence in performers and performances and at reasonable prices. At a time when more and more live performances are being priced out of the range of a large number of people, I SO value having this life-enriching experience available to us in this community. We are so lucky."
With education, we give scholarships, free concerts to kids, and grants to deserving young musicians. Here is a letter we just received from our last season Spring Teen Scholarship recipient:
Well, college applications are finished! I can earnestly say that it was thanks to you that I made the choices to apply to the schools that I did. Because of your financial support with the Spring Teen Scholarship, I was able to attend the three week piano intensive in Vermont at Adamant Music School. I cannot thank you enough for the experience you enabled me to have. Adamant Music School was beyond believable. The amount of growth that I experienced under the veteran piano faculty, and my fellow students, created an unimaginable catalyst into progress in my playing and life as a whole. There was a sort of reserved camaraderie at first, that quickly developed into what will surely be lifelong friendships. This collaborative environment and non-competitive na ture, inspired by the culture at Adamant, provided a sort of connection with music that I will never forget. The teachers at the school were very encouraging and focused. There was such a vast amount of knowledge at the students' disposal, and I really get the feeling that it was probably one of the most focused Summer Music Camps, at least in the nation (speaking strictly for pianists.) We had the teachers available pretty much all the time. We were put into studios to study with a specific teacher for the three weeks, and we were in class with them for three and a half hours every day. Then beyond that, if you wanted to study with another faculty member, all you had to do was schedule a private lesson with them. Dr. Rachmanov was wonderful! I really connected to a whole new level of phrasing in music that I'd never experienced prior to his lessons. I really worked well under him, and I also tremendously enjoyed hearing him give lessons to the other students. I foresee a day, not too far off, when I might study with him year round! Again, I cannot thank you enough for all that you have done for me! Here's to a happy new year, and the hopes that your support wasn't for not! (i.e. acceptance to Cal State Northridge where Dr. Rachmanov teaches.) With much gratitude, Toby Thomas-Rose 4 / 4 Know Your Nonprofit Profile SurveyMonkey