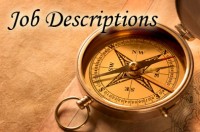 Today, well managed organizations and businesses use written job descriptions to facilitate communication and work accountability. This session will address how to develop effective, accurate job descriptions for your organization or business as well their use to mitigate legal risks. Bring your current documents to the session so you can review them as we cover the various elements that should be in a comprehensive and effective job description. This will include how often they should be reviewed and/or updated.
Well-developed job descriptions provide organizations and businesses with various capabilities and desired outcomes such as:
Filling vacant or newly created positions by clearly and accurately communicating the duties of the job as well as the organization/business's expectations to each job candidate thereby improving the quality of the Hiring decision and reducing costly new hire turnover.
With well written, current job descriptions, employees will better understand what their responsibilities are and the organization or business will better understand whether there may be a need for some employee training.
Job descriptions provide documentation that helps establish proof that various exempt/salaried jobs are in compliance with Federal and state overtime exemption regulations.
Job descriptions which identify  the minimal qualifications for performing  the  job, provide documentation in assessing any applicant or employee's request for a reasonable accommodation based upon a disability
Job descriptions for current employees provides a clear communication mechanism  for conveying  job expectations which in turn generally raises employees' engagement levels, as well as personal  and organizational commitment.
Job descriptions help protect the organizationbusiness against legal claims of inequality or discrimination by clearly and consistently articulating job requirements. This can not only establish "no cause" for the claim and also mitigate or even eliminate claimed damages.
Job descriptions create a solid foundation for performance management (employee evaluations) decisions; compensation improvements as well as promotions and/or growth assignments.
When: Wednesday, May 4th,  8:30am – 10am (check-in begins at 8am)
Where: Conference Room at Owens Estate and Wealth, 426 Sutton Way, Suite 110, Grass Valley
Suggested Participants: Executive Directors, Staff and Board Members  who work on hiring and/or HR issues
Thank You to our Session Underwriter